Applications for the 2020 Cohort are open until June 1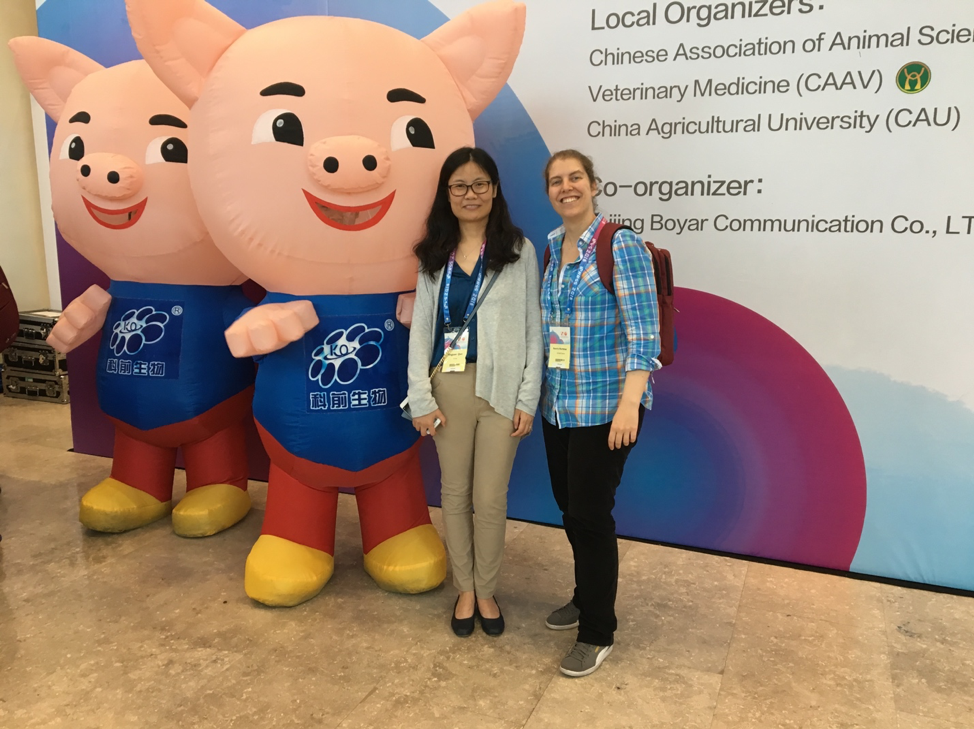 Program Costs & Financial Support
MPVM Fees and Tuition can be found at 2020-2021 Tuition and Fees. When you get to the Tuition and Fees page, click Professional, then scroll down to Preventive Veterinary Medicine (MPVM).
Some or all instruction for all or part of Academic Year 20-21 may be delivered remotely. Tuition and mandatory fees have been set regardless of the method of instruction and will not be refunded in the event instruction occurs remotely for any part of the Academic Year.
Other costs: 
SISS International Student Administrative Fee (ISAF). If you will hold a F-1 or J-1 visa, excluding UC Education Abroad and non-UC Davis sponsored students (e.g. Fulbright or Vietnam Education Fund), there is a visa fee. More information is available at https://siss.ucdavis.edu/fees-and-tuition.
Health insurance is required. UC Davis automatically enrolls you in the UC Davis Student Health Insurance Plan (Davis SHIP) which costs approximately $1,450 per quarter ($4,350 for the year). You can apply for a waiver if you have equivalent private insurance. Information about the SHIP is available at http://shcs.ucdavis.edu/insurance.
How to fund the MPVM
The program has a number of fellowships, grants, and other financial support. These do not have to be repaid. They include the Wyland Cripe MPVM Scholarship Fund, the Walter Sadler Scholarship, School of Veterinary Medicine Office of Research and Graduate Education fellowships and return from tuition. These funds will be offered automatically to you by the MPVM Admissions and Student Affairs Committee- you don't need to do anything else to apply for them, and they're based on need and academic excellence.
Some students may obtain work as a Graduate Student Researcher. These positions are competitive and offered directly by the faculty member in charge of each lab or program.
Student Loans. Domestic and permanent-resident students may be eligible for student loans to cover educational and living costs. To apply for Federal Direct Loans, complete a Free Application for Federal Student Aid (FAFSA) at https://fafsa.ed.gov/. The UC Davis federal school code is 001313. See below for types of loans.
Some MPVM students have worked as Teaching Assistants. These positions are encouraged only for students in MPVM years 2 and above.
GSSP is a grant administered by School of Veterinary Medicine Office of Research and Graduate Education. You may be eligible in your second year of MPVM if you apply when the call is announced.
Types of Loans
Federal Direct Unsubsidized Loan: A fixed interest rate of 6.08%. The fixed interest rate starts accruing immediately upon disbursement; principal and interest payments start six months after graduation or withdrawal from school. Each year students may receive a maximum of $20,500. The exact amount is determined by overall need.
Graduate Plus Loan: May be available to students enrolled in a graduate or professional program. Grad Plus borrowers may borrow up to the cost of attendance for the period of enrollment, minus other estimated financial assistance received for the period of enrollment. Available at a fixed rate of 7.08% with no annual or aggregate loan limits. A modified credit check is required; applicants who are not credit-worthy may utilize an endorser who does meet the credit requirements. A 4.236% origination fee is deducted from the loan disbursements.
Alternative Loan: Alternative education loans (also known as private loans) are an option for financing your education. Please visit the Alternative Student Loan section on the Financial Aid and Scholarships site for more information. International students may also seek an alternative loan by selecting International as your program when viewing options on the Financial Aid and Scholarships private lender list. Please be advised, any student seeking an alternative loan may need to seek a cosigner for loan approval.
Please note, unfortunately fees and living expenses are typically significantly higher than awards our program can provide. Those costs are your responsibility.
Fellowship recipients must maintain a cumulative GPA of 3.0 in the MPVM curriculum or financial support will be discontinued.
Total annual loan amount may not exceed a student's cost of attendance.
Direct specific questions about financial aid eligibility or awards to Graduate Financial Aid Services, 1100 Dutton Hall, phone (530) 752-9246 or e-mail gradfinaid@ucdavis.edu.
International students are not eligible for student loans (possible exception may be an alternative loan with co-signer).
International students:  Under Internal Revenue Service Code 1441, scholarship or fellowship payment may be subject to nonresident alien withholding tax.
The United States has income tax treaties with a number of foreign countries under which residents of those countries are taxed at a reduced rate or are exempt from U.S. income taxes. To receive the benefit of the treaty, you complete IRS Form W-8BEN and submit it to Student Accounting by the indicated deadline. For further U.S. nonresident tax information, refer to the Student Accounting Office web site.

The tuition, fees, and charges posted here are estimates based on currently approved amounts. These figures may not be final; actual tuition, fees, and charges are subject to change by the Regents of the University of California or, as authorized, by the President of the University of California. Accordingly, final approved levels and charges may differ from the amounts shown.