Admission deadlines for academic year 2023-24​​​​​
Priority: January 15, 2023
Final: June 1, 2023
 
Prospective Students: Earn a Master Degree in Preventive Veterinary Medicine
Propel Your Career with the Original Master's Degree in Veterinary Public Health
For 50 years, our graduates have found work in academia, government, non-profits, industry, and anywhere an understanding of disease transmission and prevention is valuable. A Master in Preventative Veterinary Medicine degree will give you a One Health understanding and can lead to American College of Veterinary Preventive Medicine (ACVPM) board eligibility.
MPVM candidates Jacob Marcek and Laura Schultz conduct research on Rocky Mountain Spotted Fever.
Why get your Master in Preventive Veterinary Medicine (MPVM) Degree?
Complete this master's degree in one to three years. The program is open to veterinarians and other professionals in One Health. Many students continue with a Ph.D. after the completion of their MPVM.
Our curriculum includes comprehensive training in epidemiology and statistics to empower you to design your own research and interventions in the real world.
Core courses and electives include Leadership, Information Management, Infectious Disease, Modeling, Spatial Epidemiology, and more.
ACVPM-board eligible students receive training to support certification in the American College of Veterinary Preventive Medicine.
US News and World Report has ranked UC Davis School of Veterinary Medicine first in the U.S. four years in a row, and QS ranks us first in the world.
If you are or will be enrolled in a DVM course of study, you are eligible for the DVM/MPVM Dual Degree. We offer financial aid and one-on-one advising to prospective students, including international students. Study in beautiful Davis, California located midway between San Francisco and Lake Tahoe. For more information, contact MPVM Chair Dr. Janet Foley, jefoley@ucdavis.edu.
---
"Interacting with veterinarians from around the world and at various career stages who were taking the MPVM program gave me opportunities to explore my veterinary career goals and options, and the MPVM courses were practical and useful. I still keep notes and books from my statistics and epi classes that I consult many years later." —Dr. Anne M. Kjemtrup, DVM, MPVM, PhD. Research Scientist III. California Department of Public Health.
---
Animal research - Cattle and range management - Community development - Discovery - Economics and management - Ecosystem health- Emergency preparedness and response - Epidemiology - Food safety- Global health- Government agencies- Herd health- International agriculture and development - Laboratory animal medicine and management - Leadership - Livestock and production- One health- Planetary health- Health policy- Public health- Regulatory medicine- Research - Shelter medicine - Small ruminant management - Teaching - Vaccines, pharmaceuticals, and biotechnology - Wildlife health and management - Zoonotic and vector-borne disease
---
"My PhD was all about the "why" but to be honest, the MPVM was more focused on "how", and it was in the MPVM that I developed most of the skills that I use today." —Michael Ziccardi, DVM, MPVM, PhD, Executive Director, UC Davis One Health Institute, Director, Oiled Wildlife Care Network
---
Who is eligible?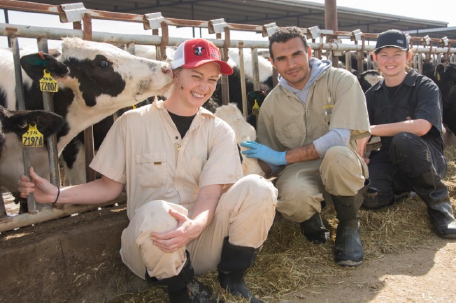 We encourage you to apply if you hold a DVM or equivalent degree allowing you to practice veterinary medicine in your country, hold an MD or equivalent, or have considerable professional experience in an allied field with at least a bachelor's degree. You need a minimum Grade Point Average (GPA) of 3.0 and must either be a native English speaker or pass a standardized English test. See "How to apply" for details.
How to apply
Start your application here at the Grad Studies application portal (https://grad.ucdavis.edu/apply). Visit "How to Apply" for information on Financial Aid, transcripts, English requirements, and other details to support your application.
Admission Information
Financial Information
About Our Community
The city of Davis is a true college town, with a Mediterranean climate and easy biking around the campus and the city. The tree-lined streets of downtown are filled with restaurants, shops, and public art. In addition, the city is within an hour of two of all of Northern California's world-famous destinations: Lake Tahoe and the Sierra Nevada mountains, the Marin redwoods and coast, Wine Country, and the San Francisco Bay area. Located in the heart of California's agricultural Great Central Valley, there is a thriving organic and local foods scene, including a twice-weekly farmer's market. Visit the links below to learn about our multi-cultural and academically diverse campus, our community, and some hints for making the move